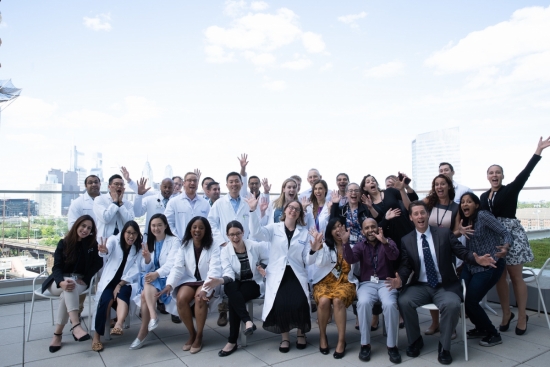 The Section of Hospital Medicine Wellness Advisory Group (SHWAG) is a group of hospitalists with varying years of experience that focus their efforts to work on improving the overall wellness and practice satisfaction of our hospitalists. Created after a 2016 Strengths, Weaknesses, Opportunities, Threats (SWOT) assessment, some of the topics SHWAG focused on included the improvement of hospitalist branding, encouraging collegiality and camaraderie, and mentorship and scholarship development programs.
Some of the exciting events that have been sponsored by SHWAG include our annual "speed dating" event where junior and senior faculty have the opportunity to develop professional relationships outside of the clinical environment.  Our 2018 event, included a special "story slam" session, which allowed hospitalist to speak to their experience and path towards choosing a career in hospital medicine.  Other events include special social events during orientation and onboarding week, an annual Sumer BBQ and a holiday party that is generally held at one of our hospitalist's home.  Other fun activities have included a resident-attending karaoke night and an evening wine and cheese roundtable to discuss narrative medicine.  We finish the year with our annual hospitalist and advance practice awards ceremony. In #2020 we made the best of it and bonded at our first (and hopefully last) virtual holiday party with an online ugly sweater competition (our Section Chief, Ryan Greysen took first prize), socially distanced Secret Santa gift exchange (thank you Amazon) and a hospitalist themed Jeopardy competition. In the spring of 2021, some of the Hospitalist moms got to enjoy an early Mother's Day brunch in the city after being fully vaccinated, of course.
SHWAG's work will continue to focus on our groups overall wellness through a variety of creative events, including the planning of a hospital medicine retreat where the initial SWOT assessment was created and establishing a platform for peer discussions of difficult patient cases.