Employment Opportunities
We seek candidates eager to practice advanced hospital medicine in a fast-paced and collegial environment with numerous academic and leadership opportunities.  All hospitalists are assigned mentors in their area of interest and all positions include non-clinical time for faculty development and individual academic pursuits. Our faculty are a diverse group who support one another and prioritize wellness and work-life balance. 
The table below summarizes our different tracks for recent residency graduates. 
-For recent residency graduates seeking a structured pathway to a long-term academic hospital medicine career, explore our Hospitalist Scholars - Academic Hospitalist Track  or follow the links below to apply.
-For recent residency graduates seeking to work gap years as a bridge to a subspecialty fellowship, check out our Hospitalist Scholars - Subspecialty Track or apply below.  
-We also have positions for experienced academic hospitalists (Academic Clinician Track) or those who have a passion for full-time clinical work in an academic environment (Penn Medicine Clinician) with application links below. 
-Graduates of combined Medicine-Pediatrics programs are encouraged to apply to any of our tracks join our growing group of Med-Peds hospitalists, with the opportunity to split time between our adult hospital sites and Children's Hospital of Philadelphia (CHOP). 
-Those interested in Penn Internal Medicine Ultrasound Fellowship can choose to fulfill their clinical shifts as hospitalist Instructors.  
For anything not covered on our website, please reach out to me with questions. I look forward to hearing from you. 
Emmanuel King, MD, SFHM, FACP
Director of Recruitment and On-Boarding, Penn Hospital Medicine
Professor of Clinical Medicine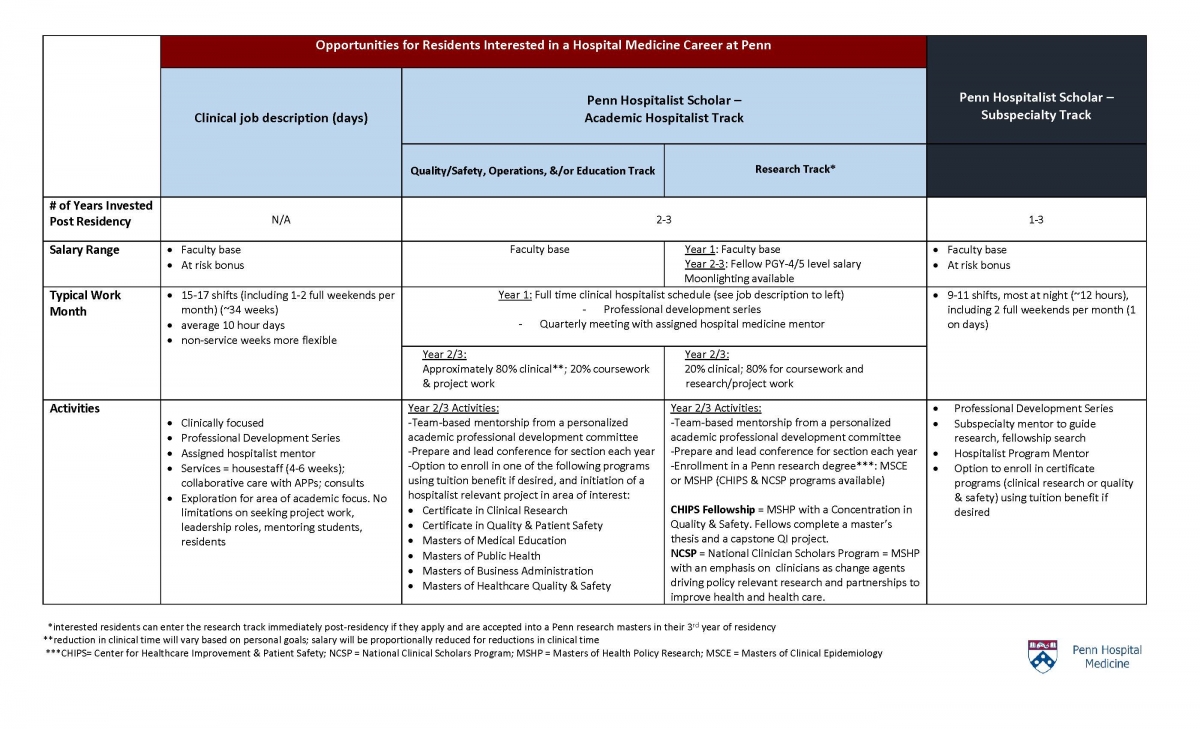 Open positions
Clinical Instructor/Penn Hospitalist Scholars - Academic (graduating residents seeking a junior level academic hospitalist position)- Learn more / Apply
Clinical Instructor/Penn Hospitalist Scholars - Subspecialty (graduating residents working gap years before transitioning to subspecialty fellowships) - Learn more / Apply
Academic Clinician Track - Junior Rank (graduating Chief Residents, those with advanced degrees or junior faculty with <5 years academic experience seeking Assistant Professor positions)-
Learn More / Apply)
Academic Clinican Track - Senior Rank (academic faculty with several years (>5) experience seeking Associate or Full Professor positions)- Learn more / Apply
Penn Medicine Clinician (clinically focused hospital medicine staff physician positions)- Learn more / Apply
No longer accepting applications
Instructor/Internal Medicine Ultrasound Fellowship  - Learn More about the fellowship  (check back in Summer of 2023 for application link)